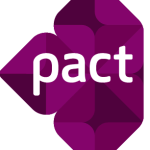 Pact (Pact)
Finance Officer, ACHIEVE Rwanda Vacancy-Job Ref:JKRWPACT/0610/20218
Kigali (Rwanda)
JOB DESCRIPTION
At the heart of Pact is the promise of a better tomorrow. A nonprofit international development organization founded in 1971, Pact works on the ground in nearly 40 countries to improve the lives of those who are challenged by poverty and marginalization. We serve these communities because we envision a world where everyone owns their future. To do this, we build systemic solutions in partnership with local organizations, businesses, and governments that create sustainable and resilient communities where those we serve are heard, capable, and vibrant. Pact is a recognized global leader in international development. Our staff have a range of expertise in areas including public health, capacity development, governance and civil society, natural resource management, poverty, fragile states, monitoring and evaluation, small-scale and artisanal mining, microfinance and more. This expertise is combined in Pact's unique integrated approach, which focuses on systemic changes needed to improve people's lives.
Department
Program Delivery (PDEL) – Pact exists to help create a world where those who are poor and marginalized exercise their voice, build their own solutions, and take ownership of their future. The Program Delivery Team, contributes to realizing this purpose by: Forging smart partnerships and treating all people with dignity and respect; Applying organizational policies and regulatory compliance appropriately and consistently; Facilitating team spirit among colleagues and promoting the organization through communications; Influencing decision makers through focused, relevant communications; Continually striving to learn and share knowledge and find small ways to make the workplace more enjoyable for all; Cultivating and harvesting innovation; Contributing to the organization's ability to think and act strategically at all times; Inspiring and spreading our desired organizational culture across the global enterprise.
Position Overview
Pact seeks a Finance Officer for the ACHIEVE Rwanda program. ACHIEVE is a five-year, USAID-funded global cooperative agreement with the dual objectives of attaining and sustaining HIV epidemic control among at-risk and hard to reach pregnant and breastfeeding (PBF) women, infants, children, and youth, as well as to mitigate the impact of HIV/ AIDS and prevent HIV transmission among these populations; and supporting the transition of prime funding and implementation to capable local partners in order to meet the PEPFAR goal of 70% of funding to local partners.
The Finance Officer will support finance and accounting functions in the Country Office. Reporting to the Director of Finance and Grants, the Finance Officer will be responsible for reviewing invoices, preparing payments and entering transactions into the Pact accounting system. Additional responsibilities include maintaining departmental files to ensure proper documentation of all transactions. This position ensures good accounting practices within the project and will ensure compliance with US Government rules and regulations and Pact policies and procedures.
Key Responsibilities
Review all invoices that are received and preparing supporting documentation for payment.
Review and manage outstanding payable and receivable balances, including employee advances.
Enter payments into the online bank system, with appropriate vendor bank information
Reconcile bank accounts as needed.
Process cash advances to project staff.
Entering transactions in Serenic software.
Contributing to submission of monthly financial report.
Ensure expenses are paid in respond of Pact procedures and GAAP.
Assist with the processing of payroll as needed
Filing of all the accounting documents
Other duties as assigned.
Basic Requirements
BA accounting, finance or economics or related field or an equivalent combination of relevant experience or training.
​4 years of relevant experience, preferably with an international non-profit organization
Ability to perform and prioritize multiple tasks while working independently
High degree of professionalism and ability to treat confidential material with sensitivity.
Strong analytical skills
High-level interpersonal and communication skills
Strong computer skills including Excel and accounting software
Preferred Qualifications
Prior experience working on programs in relevant areas such as USAID PEPFAR funded programs.
Rwandese Nationals with English fluency highly encouraged to apply.
ABOUT PACT
A nonprofit international development organization founded in 1971, Pact works on the ground in nearly 40 countries to improve the lives of those who are challenged by poverty and marginalization. We strive for a world where all people are heard, capable and vibrant.
WE SERVE communities challenged by poverty and marginalization.
WE ENVISION a world where everyone owns their future.
WE BUILD systemic solutions in partnership with local organizations, businesses and government.
Pact is a recognized leader in integrated development. Our integrated approach combines interventions in purposeful ways to address development challenges holistically, always tailored to local needs. And we focus on systemic change to build an environment for sustainable success.
Please click on the link below to apply.